New Rares

Glacor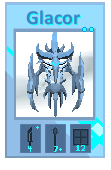 Glacors are the easiest card to summon and they're troublesome in numbers
11 total damage

Steampunk Chemist
Her slashes maybe blockable but her poison isnt.
35 Total damage
Steampunk Queen
One angry shot! for the furious queen! And a slashy slashy!
Doing 12 range damage + Single Slash
35 Total damage
Pernix Archer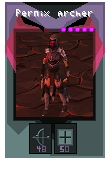 Choose your target wisely because your card only fires once.
24 total damage
Azure Assassin
The azure whip has blades on each tip which makes it very deadly.
2 slashes alone can shred your shred anything doing 12 damage each.
The slashes leave 37 marks unless your card has armor.
49 Total damage
Void Assassin
A 22 slash followed by 3 knives thrown doing 12 range damage each.
56 total damage

Pyron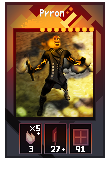 First he burns you 5 times then wam! 27 damage with his axe..
A total of 47 total damage
Iron Poster







Age

: 25



Staff Member









Similar topics
---
Permissions in this forum:
You
cannot
reply to topics in this forum